Stair Carpet: 14 Stair Carpet Ideas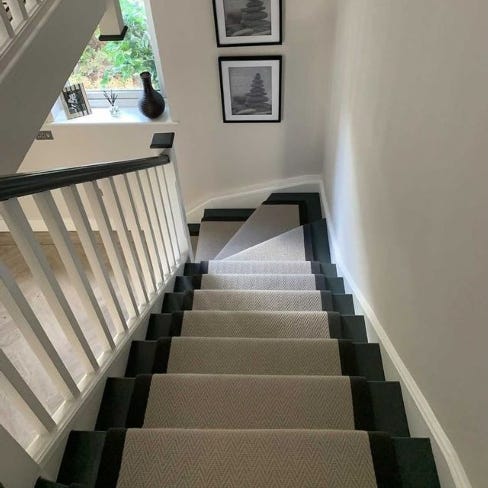 @hertfordshire_housebuild/ Tapi carpets/Comar Carpets/@our_tackyhome
Looking for stair carpets and runners to transform your staircase? From stripes to classic beige, give your hallway the five-star treatment with a new carpet.
Carpets work wonders on stairs, providing soft and spongy comfort underfoot. Whether you want to make a design statement or prefer a pared-back neutral look, or you've set your heart on a grey stair carpet over a patterned stair carpet, we've got stylish suggestions to suit every interior style and budget.
What is the best carpet for stairs?
Stairs are a high-traffic area, so it's crucial the carpet covering them is durable to withstand its activity levels. When it comes to the best stair carpet material, synthetic nylon carpet may be your best bet for safety​ and strength, while wool is also a good option as its fibres repel stains and dirt (although it's more expensive). Meanwhile, berber carpets are an incredibly durable choice for staircases as they are made from loops instead of strands.
'A stairway is often the first thing your guests see as they step inside your home and can completely set the tone for your personal interior style,' says Jess Contomichalos, Interior Stylist at Cormar Carpets.
Full stair carpets or a stair runner carpet?
As well as all-over carpet, a modern stair runner is another great way to transform a simple staircase. 'A runner is an excellent way of updating your staircase without breaking the bank,' says Myles Shaw, Managing Director from runrug.
Essentially, a stair runner is fitted to the middle of your staircase, leaving some of the wood visible on each step, while with fully carpeted options, the entire steps are covered. 'Fully carpeted stairs project a feeling of opulence, while a runner will add wow factor,' adds Jess.
Why is carpeting on stairs a good idea?
Carpet is a great option on stairs, especially for homes with young children and elderly family members. Hardwood flooring can become dangerous if anything spills or little ones run with socks. Carpet might not prevent falls, but it certainly provides more stability when climbing stairs.
Whether patterned or plain, there are lots of stylish stair carpet ideas for your stairs and landing. On that note, browse through these suggestions…
2
Embrace a medley of colours
Bring together a glorious medley of raspberry, mulberry and blackcurrant shades for a chic and cosy scheme. Paired with a classic grey stripe carpet runner, this hallway is the ultimate recipe for an inviting space.
3
Choose your textures
When choosing stair carpets in a busy home, opt for carpets which are stain-resistant and durable.
'Herringbone wool carpets for stairs meet the demands of busy households wanting to make eco-conscious choices when it comes to their flooring,' say the experts at Tapi Carpets. 'Wool and woven carpets are extremely cosy and exude elegance but the natural fibres used have elasticity and bounce back making it extra durable.'
Pictured: Carpet runner in the style 'Herringbone' by Tapi Carpets
4
Keep it neutral
Showcase subtle textures on your stairs with a neutral runner. We've got our eye on this design, which has a chic finish thanks to its neat black trim. Go on, give your hallway the upgrade it deserves…
5
Make a statement
Implement pattern into your home with an eye-catching carpet runner, such as this hand-woven style from Jennifer Manners. It's a charming, playful pattern that will really work well alongside a white or neutral staircase.
Pictured: Tiles runner in Teal, £2,020, Jennifer Manners; Plant stand by Ferm Living, £179, Heal's; Hemp storage basket, £69.95, Oggetto. Black concrete planter, £55 for two, Rose & Grey.
6
Create the illusion of space
As well as drawing attention, striped carpets help create the illusion of a bigger space, which is great for a smaller home.
'Often the first thing you see when entering a house, the stairs and hallway create a first and lasting impression on your guests,' says Jemma Dayman, Buyer, Carpets and Rugs at Carpetright. 'It's the perfect area to take risks and be daring with your styling.'
Pictured: 'Boston Stripes' by Carpetright
7
Play around with blue
Lively blue is a calming shade perfect for high-traffic zones (it masks stains better). If you have a small hallway that you're struggling with, try matching stair carpet to your walls. Picking out just one shade will tie the whole space together perfectly.
READ MORE: 8 ways to make your hallway the ultimate Insta-ready space
8
Go bold
'Bold, geometric designs and bright colours will give your stairs that wow factor and work well when mixed with minimalist furniture and accessories,' says Jemma.
'Opting for repeating patterns will not only allow your design to flow easily into other rooms, but will be forgiving to everyday marks and scuffs as your stairs see some serious use over their lifetime.'
Pictured: 'Colombus' by Carpetright
9
Add a pop of colour
Why not use your staircase to add a pop of colour. This blue stair carpet from Carpetright is ideal for jazzing up an all-white hallway — and will cheer up any rainy day.
Pictured: 'Condo Patterned Carpet' by Carpetright
10
Keep it fun for the kids
11
Match your carpet and staircase
Bring a touch of plush texture to your home with traditional hues, such a dark purple or classic brown. To truly set the mood, why not paint your staircase bannister the same colour as your carpet? Bold and daring, yes, but it will wow guests in an instant.
12
Carpet runners
Carpet runners — decorative strips of carpet which run down the centre of a staircase — are all the rage on Instagram. Unlike fully carpeted options, runners aren't as wide as your steps as they leave a gap on the side. Typically installed over hardwood or tiled stairs, they are a brilliant choice for both modern and traditional homes.
'Runners can be fitted on the stairs either as a standard carpet, attached with stair rods or used as standalone hall runner,' says Jenna Kane, Product Development at Kersaint Cobb.
Pictured: Carpet runner by Fibre Flooring
READ MORE: 23 beautiful doormats to brighten up your home's entryway
13
Monochrome madness
Flooring needs to meet practical needs, but you'll also want to ensure it complements the rest of your interiors, too. If you're looking for a style that will give your hallway a smart upgrade, this monochrome stair runner is just the ticket.
14
Create a calming feel
Refresh your entryway with a calming colour palette. Classic and elegant, it's the ultimate way to create a welcoming first impression. And, it looks brilliant with hallway panelling.
'Neutral shades can lighten up a small or dark entrance by accentuating the feeling of space, while gentle stripes add a stylish feature to your staircase,' adds Jess.
Pictured: 'Avebury' by Cormar Carpets
Follow House Beautiful on Instagram.
Like this article? Sign up to our newsletter to get more articles like this delivered straight to your inbox.
Love what you're reading? Enjoy House Beautiful magazine delivered straight to your door every month with Free UK delivery. Buy direct from the publisher for the lowest price and never miss an issue!
This content is created and maintained by a third party, and imported onto this page to help users provide their email addresses. You may be able to find more information about this and similar content at piano.io